With the ChartMaker Mobile App, STI is intent on developing an EHR experience that serves the physician, rather than chasing government requirements.
Designed from the start to provide features that you want, it breaks the electronic shackles that keep you at your desk.
• View patient clinical data including allergies, medications, diagnoses, advance directive status, and insurance
NOTE: Users must first be registered through ChartMaker® Medical Suite before using the ChartMaker® Mobile App.
The app can be downloaded from the Google Play store, or the Apple iTunes store, to any android or iOS device respectively—iPhone, iPad, Samsung phones, Droid phones, Galaxy tablet, etc.   You also need to contact STI at http://sticomputer.com/mobile-app-enrollment  so that we can work with your office staff to show you how to enable mobile users from the ChartMaker Medical Suite.
Not currently.  It's free for a limited time, so why not try it out?  You can add as many mobile users as you want.
View your appointment schedule and appointment schedules of other providers in the practice.
Access appointment details that you would see in Practice Manager. This includes appointment time, reason, schedule type/location, appointment duration, patient name, patient date of birth and age, patient birth sex, insurance case.
Tap the patient's name in the appointment list (or look up a different patient) to see details about the patient including Home address, phone number, email, insurance coverage, preferred pharmacies, last and next appointment, healthcare proxies, advanced directives, medications, allergies, diagnoses (active and inactive).
Tap the phone icon next to the patient's phone number to call them from your phone.
Enter patient charges quickly and shorten your office's revenue cycle
If you have licensed ChartMaker Clinical, you can view patient health information similar to that of the Clinical facesheet.
This includes advanced directives, allergies, medications, and diagnoses.
Enter charge information.
This includes diagnoses, procedures, modifiers, facility, practice, case, and comments. Comments can be entered a text, or you can you your device's speech recognition capability.
You can also send feedback directly to the product development team at any time using text or speech
Like the Medical Suite, ChartMaker Mobile release new features about every 6 weeks. Look for more features coming soon.
Yes!  The ChartMaker Mobile App uses secure encryption between your phone and your patient data in the Medical Suite.  An automated logout after a short period of inactivity ensures that even if you lose your device, it won't stay connected.  And, when you're done viewing the protected health information (PHI) of patients, ChartMaker Mobile leaves none of it behind on your phone.
ChartMaker Mobile goes with you wherever you go, including when you're on call, at home, or doing rounds.  Designed from the start to provide features that you want, it breaks the electronic shackles that keep you at your desk.  In the near future, we're bringing additional charge entry features, secure messaging, and lab results. 
You tell us.  We encourage you to send us feedback about what you like, don't like, and what you want us to add, from within the app using the Send Feedback feature.  Just tap the caduceus at the top left of any screen, and then tap Send Feedback!  We've incorporated this feedback already to help us prioritize new features and improve existing ones.
(Click on image to enlarge)
Now Available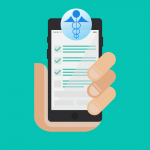 FREE For A Limited Time!