On April 27, 2016, the Department of Health and Human Services issued a Notice Executive of Proposed Rulemaking to implement key provisions of the Medicare Access and Summary CHIP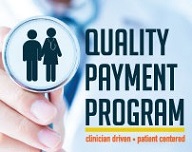 Reauthorization Act of 2015 (MACRA), bipartisan legislation that replaced the flawed Sustainable Growth Rate formula with a new approach to paying clinicians for the value and quality of care they provide.
MACRA implements these changes through the unified framework called the "Quality Payment Program,"
The Quality Payment Program policy will:
Reform Medicare Part B payments for more than 600,000 clinicians
Improve care across the entire health care delivery system
Clinicians have two tracks to choose from:
An APM is a payment approach that gives added incentive payments to provide high-quality and cost-efficient care. APMs can apply to a specific clinical condition, a care episode, or a population.
Advanced APMs are a subset of APMs, and let practices earn more for taking on some risk related to their patients' outcomes. You may earn a 5% incentive payment by going further in improving patient care and taking on risk through an Advanced APM.
MIPS streamlines three quality programs, Physician Quality Reporting System (PQRS), Value-based Payment Modifier (VBM), and Medicare Electronic Health Record Incentive Program (aka Meaningful Use), into one single program. Learn more on our MIPS program page.
PQRS Note: 2016 was the last program year for PQRS. PQRS along with VBM (Value-Based Modifier) transitioned to the Merit-based Incentive Payment System (MIPS) under the Quality Payment Program. The final data submission timeframe for reporting 2016 PQRS quality data to avoid the 2018 PQRS downward payment adjustment was January through March 2017. The first MIPS performance period is January through December 2017. For more information, please visit our MIPS page and the CMS Quality Payment Program website.