Specialty: OB/GYN
Starting a Practice
After leaving a six-provider practice, Dr. Melissa Delaney opened her own practice in March 2006 in West Chester,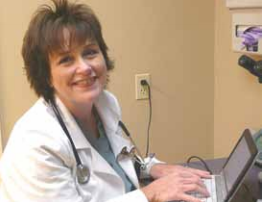 Pennsylvania. Stepping into Dr. Delaney's office is like going to the "spa". The office is modern, beautiful, inviting and has quiet calming music to help patients relax. Although she never used an Electronic Medical Records (EMR) system previously, Dr. Delaney was interested in using technology to improve productivity. Being married to an IT geek didn't hurt either, so she decided to start her practice off the right way. She planned to implement the complete ChartMaker Medical Suite: Practice Manager, Scheduler, Entry Point, and Clinical in her new practice
Before EMR 
Dr. Delaney clearly remembers life without an EMR. Charts were lost while multiple people frantically went through the office looking for them. There were huge piles of charts on the nurses' desks waiting for results and re-filing. These were the backlog of results that needed to be attached to the chart, signed off on, and then filed. Dr. Delaney would see the patient but often did not have the latest lab/test results in the chart in front of her. Informed decisions are difficult when you do not have current information.
After EMR 
After EMR – With ChartMaker, there are no more lost charts. Results from Quest, LabCorp, and the two hospitals she is affiliated with come in electronically to her "To Do List" with no delay. Abnormal results are displayed in red so they can be prioritized. Information is immediately available. To better serve her patients, Dr. Delaney has computer access next to every phone in the office enabling the staff to document messages, assist patients, and retrieve information quickly. Patient records can be easily printed or saved to an electronic format and given to the patient at the end of a visit. With e-prescribing, there are no more handwritten prescriptions. "There is no blockage
between you and patient care. ChartMaker has made our office more efficient and made it possible for us to do what we need to do without having to hire additional staff. It is so much easier! I can see as many patients as I need to see."
Advice From Someone Who's Done It
For other doctors considering EMR, Dr. Delaney gives this advice:
In order for this to work, you have to want to do this. Your level of commitment will make or break your success.
Anticipate some resistance. There is always going to be one person who does not want to go electronic. Expect this. Move ahead anyway.
Anticipate challenges. Realize that with challenge comes new learning opportunities.
Expect the transition to take at least 3 months to get accustomed to new ways of doing things. It is well worth the effort.
Don't ever worry about the investment. It easily pays for itself with fewer staff and ease of communication with patients.
As you move ahead, STI's team of support staff is there to help you get your issues resolved quickly. Dr. Delaney remarked, "I have been really happy with STI Tech support is awesome!"
---
MELISSA L. DELANEY DO, FACOOG, MSc is board certified in OB/GYN through PCOM, Philadelphia.  After her OB/GYN residency in both OB/GYN and Internal Medicine, she spent six years with Brandywine Hospital in OB/GYN before starting her own solo OB/GYN practice in West Chester, PA in 2006 (affiliated with both Chester County Hospital and Paoli Hospital).  She achieved the TOP DOC of the Main Line in 2007 and has held a Credentials Committee position for over 11 years. Along with being well adept at handling high risk pregnancies and delivering many babies, Dr. Delaney uses the newest technology such as robotic and laparoscopic surgery (with the benefit of shorter healing time) and several in-office procedures such as endometrial ablations for gynecological concerns. A Philadelphia native, Dr. Delaney resides in Chester County, PA with her husband and three children and remains active in her community.