The ChartMaker® Clinical module is a fully functioning EMR with benefits such as specialty specific templates and features that more than exceed the minimum Federal standards for an Electronic Medical Records system.
Since we first released ChartMaker® in 1997, we've learned how to move a physician office from paper-based to computerized patient charts. This experience is one of the primary benefits of using our phased implementation approach.  
Based on your needs, you can choose specific modules for your practice:
A simplified version of our full EMR that's affordable yet capable of supporting your medical practice.
A complete electronic prescribing module with ability to prescribe both controlled and non-controlled substances.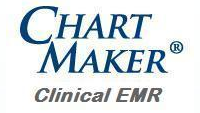 ChartMaker Clinical EMR
A fully functioning EMR with benefits such as specialty specific templates, voice recognition, E&M Coding Assistant and more. Read more about ChartMaker Clinical EMR below.
ChartMaker® Mobile is for medical practice providers. It allows the users to access data from their office practice management or EHR system and view it on their mobile devices.
ChartMaker® Clinical gives the physician and staff the ability to create or customize templates for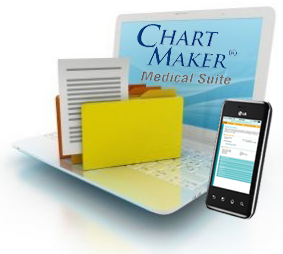 specific needs in addition to being able to provide personalized patient handouts and additional correspondence. Charts are easily viewed from the computer with immediate access to clinical information including the current problem list, allergies,medications, and other pertinent patient information. Depending on type of visit and evaluation, ChartMaker® Clinical allows you to easily select a template and enter notes directly by mouse, pen, transcription, or voice recognition. In addition, with the Custom Letters tool your patient notes can be used to easily create correspondence to referring physicians. The E&M Coding Assistant will even assist in improving chart documentation by monitoring E&M Guidelines as per Medicare
Both ChartMaker Clinical and Practice Manager share the same SQL database as all of our products so there is no duplicate data entry. Since the system is fully integrated, you will never need to worry about the uncertainties of a costly interface to another company's software product.
- Workflow Management
- Messaging
- Orders Management
- Document Management
- Voice Recognition
- E&M Coding Assistant
- Electronic Prescriptions & Prescription Management
- Query & Reports
- Flow Sheets over Time
- Custom "Flex Form" Feature
- Wireless Pen Tablet Input
- On-Site and Web Based Training
- Template Building Services
- Faxing Documents
- Illustration of drawings and photographs
- Security & Privilege System
- Patient Tracking System
- Patient Portal
- Health Portal
- Eliminate paper charts and their related storage space.
- Eliminate lost charts and manual chart pulls.
- Get out of the office sooner and work or access your electronic charts from home or another location.
- Reduce errors and the time to document a note or referral letter.
- Provide printed patient handouts to reduce medical liability.
- Produce legible, and E&M compliant chart notes for proper billing purposes.
- Eliminate or reduce transcription costs.
- Quickly document notes from pre-designed templates by mouse click or pen tap.
Want more information on ChartMaker® Clinical?
Call us today at 1-800-487-9135 ext. 1188